For Mother's Day I received this beautiful and thoughtful Mod Podge Photo Canvas gift from my hubby {and son}. He followed these detailed directions from
The Sassy Pepper
to make it.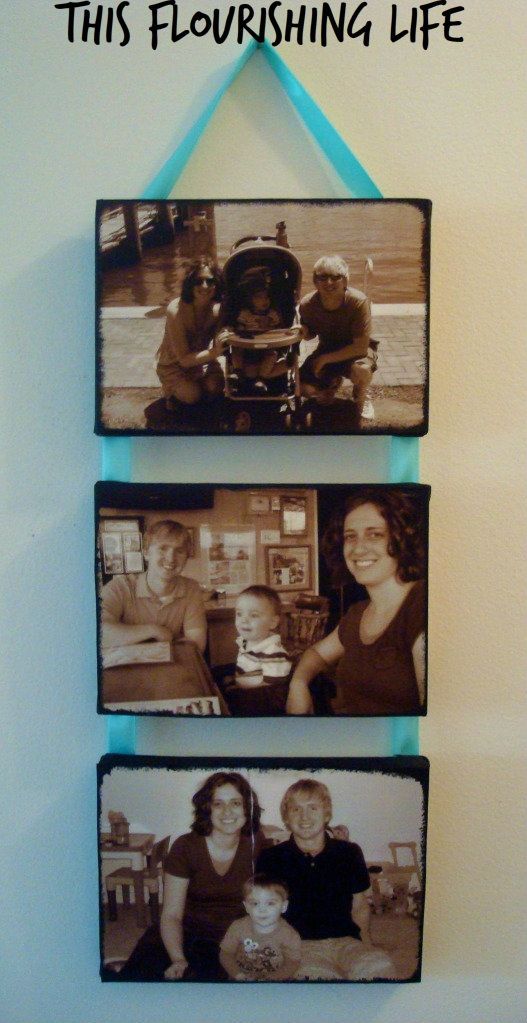 Items You'll Need:
Wax or Parchment Paper
3 Photos
3 Canvas Frames (Hubby got white 5x7 ones.)
Mod Podge Matte Finish
Paint (Of your color choosing. Hubby went with a shade of black that matched the photos.)
2 Sponge Brushes (or paint brushes)
Ribbon (Of your color choosing. Hubby went with blue in the shade of our wedding color.)
Stapler (A basic small office stapler will work just fine as long as it can open up to lay flat when stapling.)
About Our Version:
Hubby asked me to email him my top 5 favorite family pictures (I had no idea why at the time). He got the three best pictures developed in sepia tone which made them look really cool.
He mod podged the photos onto them using parchment paper, mod podge matte finish, and a brush.
After the photos were on, he painted around the sides of the canvas with a sponge brush and black paint and put some paint around the edges the make each photo look like they were framed.
Once they were done drying, he cut ribbon and stapled the pieces on to connect all of the canvases.
I don't want to steal anyone's ideas, so check out this
site
to find out how my hubby learned to mod podge the photos.